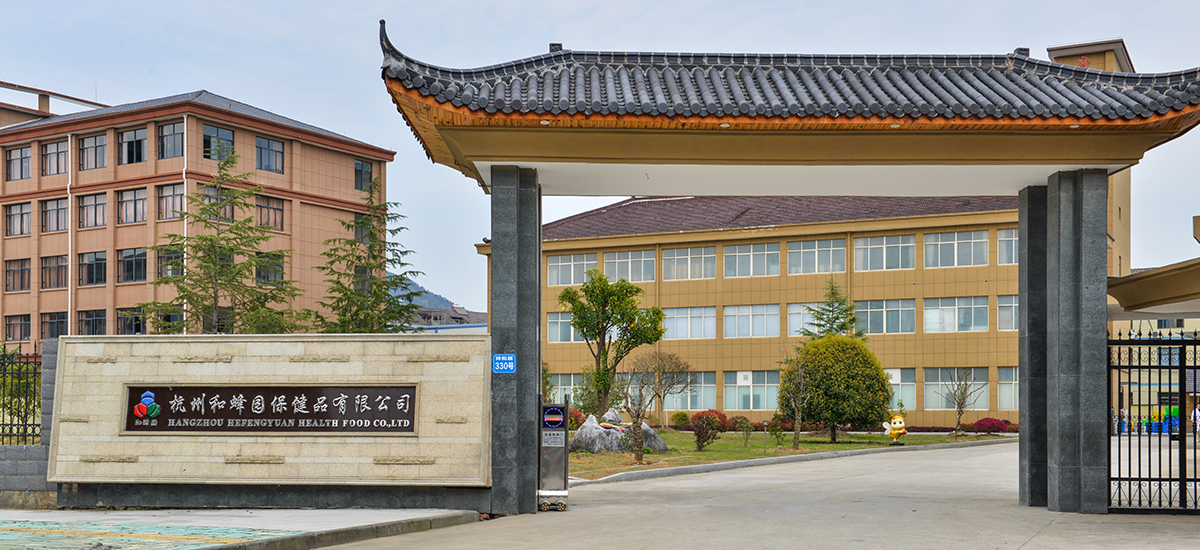 Hangzhou Hefengyuan Health Food Co.,Ltd
Hangzhou Hefengyuan Health Products Co., Ltd. is an export-oriented bee product export processing enterprise integrating bee product research and development, production, processing, sales and tourism. It is located in Tonglu, the most beautiful county in China and the hometown of Chinese bee products. It was incorporated in December 2006 with a registered capital of 10 million yuan. The company has built a new GMP standard factory building of more than 6,500 square meters, a special cold storage for 200 tons of fresh royal jelly, and a 2000 square meter 100,000-level purification workshop; and equipped with freeze drying, fresh royal jelly export production lines, honey production lines, and propolis extraction production lines. The company's factory has a beautiful environment, complete facilities and a reasonable layout.
The company's products mainly include fresh royal jelly, royal jelly freeze-dried powder, water-soluble freeze-dried powder, bee embryo freeze-dried powder, drone pupa freeze-dried powder, honey, bee pollen, propolis and more than 20 kinds of natural health products. The company's products are mainly export-oriented, and the products are sold to countries and regions such as Japan, the United States, South Korea, Southeast Asia, and the European Union. In recent years, the company has increased its research and development efforts and has successively developed a variety of new products such as deproteinized royal jelly, deproteinized honey, enzymatically hydrolyzed royal jelly lyophilized powder, enzymatically hydrolyzed drone pupae powder, water-soluble propolis liquid, and water-soluble propolis powder. Won the love of customers. The company sells more than 200 tons of royal jelly, more than 3,000 tons of honey, and more than 50 tons of propolis annually. The company has gradually become a rising star in the bee product industry based on the management philosophy of "integrity, innovation and development."
The company conducts strict management in accordance with the IS09001 quality management system standard, so that the corporate management system is more reasonable and standardized, and the product quality is guaranteed. Honor The company was established in December 2006 with a scale of 10 million yuan in registered capital, more than 20 million yuan in fixed assets, and an area of ​​more than 7,000 square meters. The enterprise R&D center was established in 2007, and in December of the same year, it was recognized as the county technology enterprise R&D center. In 2008, he was awarded the title of Hangzhou Agricultural Leading Enterprise, Hangzhou High-tech Enterprise, and Zhejiang Science and Technology Small and Medium-sized Enterprise. In 2009, he was awarded the title of Hangzhou Top Ten Technological Start-up Enterprises. In 2010, it was awarded the title of Hangzhou Modern Agricultural Science and Technology Leading Enterprise and passed the certification of pollution-free agricultural products in Zhejiang Province. In 2013, it was awarded Zhejiang Agricultural Science and Technology Enterprise, Hangzhou Enterprise High-tech Research and Development Center, and Hangzhou Famous Brand Product. Awarded Zhejiang Beautiful Ranch in 2017. Awarded as Zhejiang High-tech Enterprise in 2019.